NAMING GIFT OPPORTUNITIES:
$75,000 - "Encircled by T.L.C." … FENCING; QMA architect's custom-designed heavy gauge aluminum fence is being fabricated by Progressive Fencing and Railing of Egg Harbor Township, NJ and will conform to the Forest Green color motif chosen for most of the metal features of the park.
$60,000 – "Let There Be Light" … ELECTRIC & LAMP POSTS; the electrical work on the park calls for outlets, nightsky friendly lamp posts for the interior of the park drawn from the classic look of Washington Street Mall in Cape May, uplights for the flag pole plaza, and outlets strategically placed in planting beds to allow the park to stage a "Winter Park Aglow" event at the holidays.
$50,000 – "Gimme Shelter" … GAZEBO; designed by Ventnor's own QMA architects to reflect the "coastal Victorian" heritage of "our Ventnor" as namesake of England's Ventnor, Isle of Wight, U.K.
$45,000 - "Solid as a Rock" … GARDEN SHED; designed to take on the workhorse load of utility connections, the "shed" is solid masonry which will be finished by furring strips and siding.
$35,000 – "Water is Life" … SPLASH PAD; at the very center of the Pocket Park, the 16-spout RainDeck-designed water feature with LED color-play lights. NO LONGER AVAILABLE. FUNDED ~ for an In Memoriam Tribute, by friends of a recently deceased Ventnor resident
$25,000 - "Welcome Neighbors and Friends"….the double-gated Entrance and Archway bearing the name of the park, also custom-fabricated by Compass Ironworks.
$20,000 – "Honeysuckle Alley" … TRELLIS. Just beyond the entryway into the park, a charming barrel vaulted trellis designed by QMA will support a coral honeysuckle vine to lend a fragrant note as visitors approach the piazza with splash pad.
$17,500 – "Rainbow Bridge" … BRIDGE; a commemorative footbridge extending over a river-rock dry gully planted with dense blue flowering ground cover will give a nod to the donor's favorite pet.
$15,000 – "Boulder Bench Vignette" … NATURE BENCH; a corner of the park reached by the Rainbow Bridge will be given over to natural boulders, a stone bench and Monarch-butterfly friendly plantings.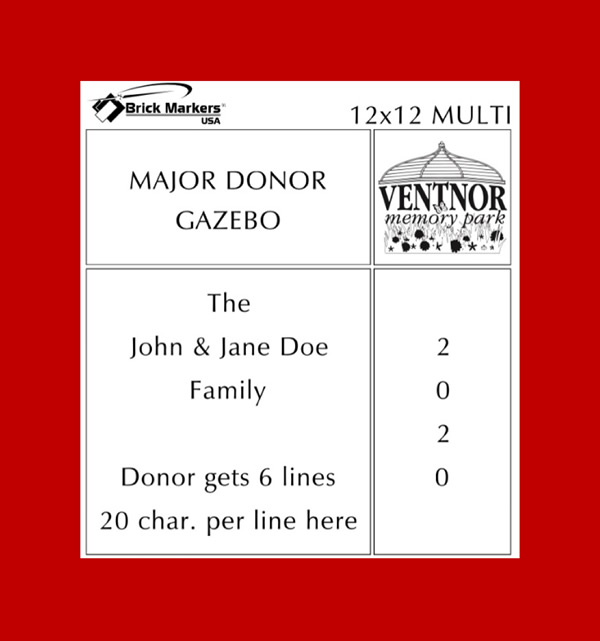 Donors who choose to engage at Naming Gift levels of participation in the Pocket Park's completion costs will be honored at the entrance path leading from just inside the first gate toward the piazza. Inlay "sets" are being ordered at this time since three of the four parts available for inscription already have known contents describing gift, a rendering of "park branding" and the year of park build-out.
The 8"x8" pavers comprising the largest part of the "Multi" will be laid down in blank to avoid delays in park development for which the park founders are advancing costs. They will be lifted and replaced with identifying names and inscribed sentiments as donors step forward. In addition, donors' names will be set forth on this website and hyperlinketo a "donor page" with any significant information donors may wish to submit about their family, or someone being honored, or their own "story" explaining their attachment to Ventnor.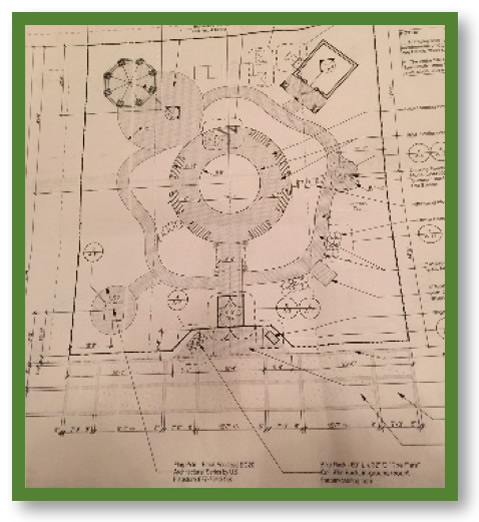 "Everyone has a story; and Ventnor stories deserve to be told."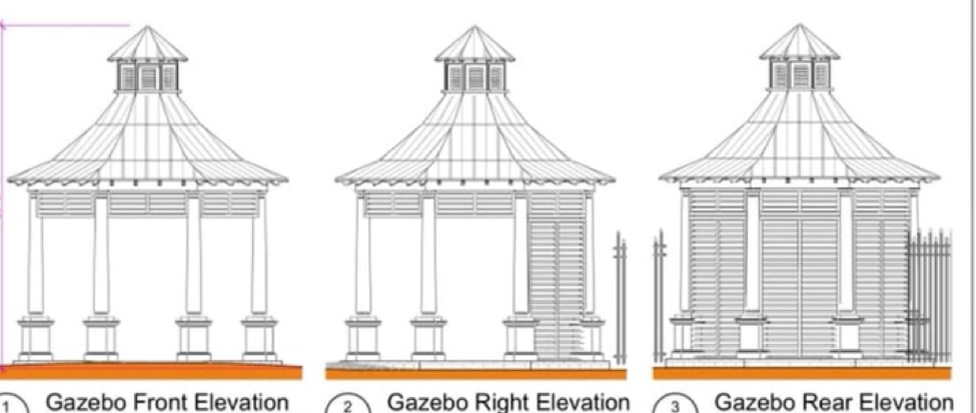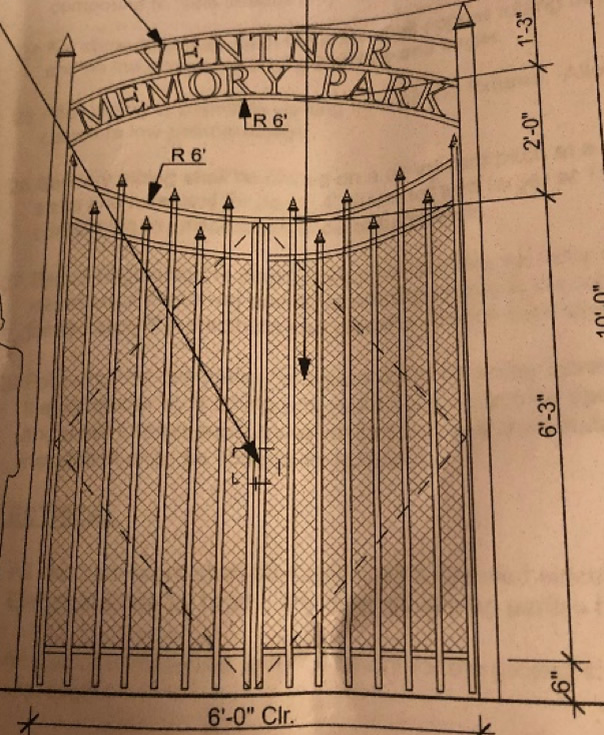 The design plans call for the entrance path, and the circular plaza around the Splash Pad beyond it, to feature red brick pavers while an exterior circular path around the park will feature Techo-Block "Parisien" pavers in Shale Grey. Inlaid into the red brick path leading through the trellis, and designed to contrast against the red brick by being rendered in "Lighthouse Grey" which complements the Parisien pavers, a BrickMastersUSA Multi will honor Major Donors.
Naming Gift opportunities are unique, and some donors may wish to break up their payments with an initial donation and a two year "pledge" commitment. The "Donate" links connecting website transactions to the non-profit's local bank account at Ocean First is not suitable for gifts at this level. Inquiries should be made in advance by email, letter or phone call. See the "Contact Us" page to reach us for Q&A.

Major Gifts | Trees, Shrubs, Perennials | Benches
Odds & Ends | Engraved Bricks | Friends of the Park