An early 1920s aerial photo of Ventnor from above shows, over toward the right and on Ventnor Avenue, an empty lot with an area of white surrounded by a darker area suggesting that maybe the lot was used for sandlot baseball, whether formally designated or just informally putting an unsold lot to good use for youngsters interested in baseball.  In the same timeframe, an early 1920's Sanborn Insurance Map which laid out towns and color-coded the structures as wood, brick or stucco, depicts the 5000 Ventnor Ave. block as raw land. In 1921, the Heights would still have been largely undeveloped, other than some summer cottage bayfront "boathouses."  Middle class housing away from the water was not undertaken until the 1940's.   No Titus Field for recreational sports, no Wellington Plaza Shopping Center (1972).
Early 1920's Sanborn Insurance Map

1920s

1931

The lot from the 1920s and 30s, primitive aerial photograph shows it as an empty field and possibly given over to informal sandlot baseball.

(click on pics to see larger image)
Later, at sometime in the 1930's, two large apartment buildings were built in the 5000 Ventnor Ave. block. They carried street addresses of 2 S. Oakland Ave. and 1 S. Hillside Avenue, consistent with the streets which their front entrances faced.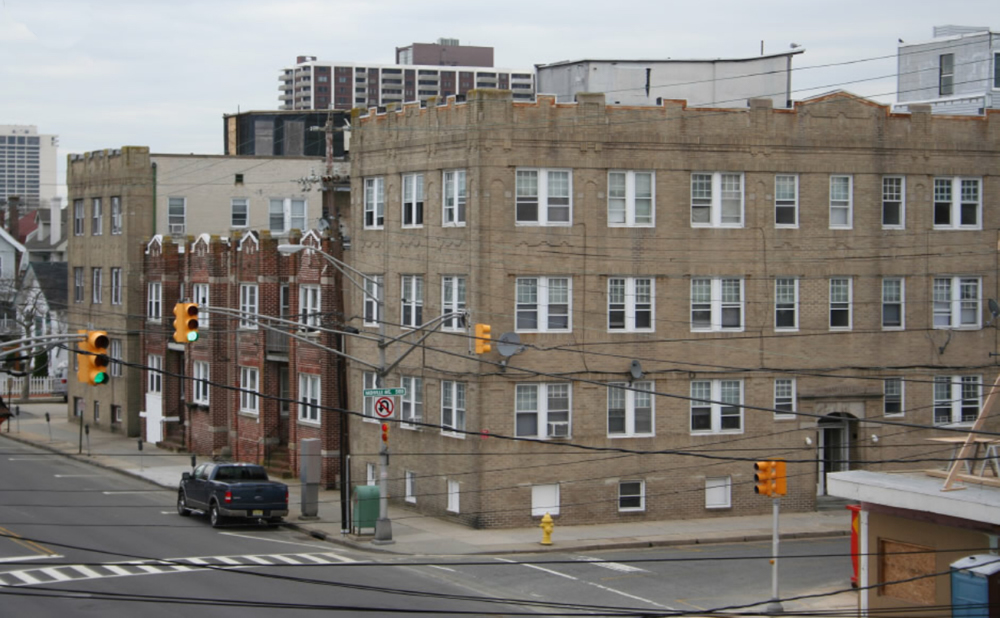 Ventnor Memory Park occupies the ground where there were once four narrow row houses.  Believed to have been constructed sometime in the 1930s, they were ultimately demolished circa 2005–2009, near the waning days of an ambitious redevelopment plan. Afterwards, the lot returned to nature — much as it had once been an open field in the early 20th century — and was seen for its potential to provide open space for enjoyment by present and future generations in an area of densely clustered homes and businesses
In between and facing Ventnor Ave., four single family row houses were built; street numbers of 5004, 5006, 5008 and 5010 Ventnor Avenue were their assigned addresses. Right across the street, the old Lou's eatery was a vibrant magnet of clientele.  
In the late 1990's, a 26 block section of the town was dubbed the Northeast Redevelopment Area.  After litigation which went to the NJ Supreme Court on the issue of "eminent domain for private gain" and which concluded in 2005, there was a pullback by a financially capable co-partner (Pulte Homes) in the Redevelopment plans. 
The surviving partner was named the Alliance Group and its principal, Mark Alsentzer, submitted a plan for a 22-unit condo structure he dubbed "Tre Sorelle" on the block as it faced Ventnor Avenue.  Although that plan, and another for a 32 unit condo building across the street, received Planning Board approval, neither were ever built. 
The vacated structures on the even-numbered side of the street met different ends.  Alliance Group renovated the apartment building at 2 S. Oakland Ave and attempted to sell small condo units.  Presently, the apartment building is under new sole ownership and still an apartment house. 
In 2009-10, the vacant rowhouses and the large apartment building at 1 S. Hillside Ave. were demolished.  Some refreshing "signs of life" occurred in the same year, 2009, when a building on the corner of Ventnor and Nashville Avenues was substantially renovated and expanded to become a Veterinary medical practice and hospital. But then, any further progress in the neighborhood languished.  As five lots, each under separate ownership, languished ... nature started to reclaim "her" own,  Clover and weeds; weeds and clover.